Charitable Trust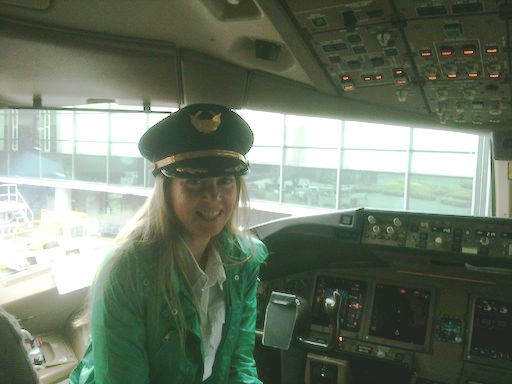 Q & A with Marlene
1. Describe the plot of Charitable Trust.
Girl loses husband, girl gets pilot's license. Then, she gains ex's dad's trust and it all goes horribly wrong. The ending, however will satisfy and delight the reader. If Charitable Trust were a movie, its log line would be: Legally Blonde, meets Baby Boom (but instead of inheriting a toddler, the star inherits a fortune to fund a trust to help veterans—and then, trouble ensues), with a little Working Girl on the side (an homage to the relationship depicted between by Melanie Griffith and Harrison Ford, via the relationship between Kate—the protagonist of Charitable Trust—and Steven, the private equity guy). Charitable Trust is not at all in the "domestic noir" genre, e.g., Gone Girl, Girl on a Train (no sociopaths; no alcoholics); rather, it's more like Girl on a Plane.
2. Where did you find the inspiration for Charitable Trust?
I read Moby-Dick for the first time as an adult. I picked it up on 31 Dec. 2011, and completed it in early 2012. That book inspired me to write a 21st century story that would use law/aviation as metaphors for life's issues, much as Melville used the whaling industry and life at sea. At that time, my dear friend's son was a Hollywood agent. So, I thought I'd write a script that would be smart, but appealing like Legally Blonde. I was searching for a way to do this when three things (that I'd rather not reveal, as they'd give too much of the story away) occurred over a course of several days in June 2012. I had the story and wrote a "treatment" in less than a week. My husband read it and said it should be a book. Thus was created Charitable Trust.
3. Why did the book take more than three years to write?
Charitable Trust began in late June 2012, and was interrupted by the great sorrows of Superstorm Sandy's destruction of our home and town; the Sandy Hook massacre (where my relative's son, Chase Kowalski, was murdered) —and my resulting, ultimately unsuccessful, efforts to make it more difficult for crazies to purchase firearms; and my mom's unexpected death in Oct. 2013, leaving me unable to complete the book until summer 2014. The editing process took time, and here we are today, three and a half years later.
4. What is it that you think makes Charitable Trust special?
It's a narrative that will entertain and enlighten, giving the reader an insider's view of the law and aviation industries, in addition to the primary story of loss, struggle, recovery, and transcendence.
5. What are some major themes in Charitable Trust?
In addition to love and loss and law and aviation, it's an archetypal story of riches to rags to riches, with a protagonist who's flawed, warm, practical, and a problem solver confronted by many problems. By the end of the story, she's a bit older and wiser, confident that better days lie ahead.
6. Tell us about the settings in Charitable Trust and how did you choose them?
Primarily New England: the Cape and the islands, with a little L.A. thrown in for good measure. I write what I know. I'd been visiting the Cape since I was a baby, having had an uncle in the Air Force in the 1960s who lived on and off base at OTIS AFB with my aunt and cousins. Then, I attended Boston College and spent holidays on the Cape. After law school, I was involved for several years with a Cape Cod entrepreneur who owned a Cessna that he kept at a FBO at HYA. Finally, I married a pilot (a B777 captain with United Airlines) and for fun, we fly a little Cessna all over the New England, particularly the Cape and the islands.
7. What traits do you share with Kate Bergin, the protagonist of Charitable Trust?
I'm a lawyer licensed in MA, so is Kate. I've been divorced, so has Kate. Kate's a pilot; I'm married to a pilot. Kate's got a good sense of humor; me, too. She likes Melville, Emerson, and Thoreau; same for me.
8. Is Charitable Trust connected with your real life experiences?
Yes. In the 1990s, I was married to a man whose dad was much like Kirk Kerkorian. He was the inspiration for the Warren Ethan character.
9. What and who are some of your favorite books and authors?
I'm currently stuck in the mid 19th century. I favor Melville, Lincoln, Emerson, Thoreau, and Hawthorne. I'm presently reading Can You Forgive Her, by A. Trollope. For 21st century nonfiction, I like anything written by biographer, Fred Kaplan. When I was very young, my parents took me to Plimoth Plantation and Plymouth Rock. They bought me a copy of the Mayflower Compact, which I saw was signed by, among others, "Peter Browne" (a stranger, not a saint). Ever since, I've been fascinated by the Pilgrims and wanted to learn more about them, before they set sail for North American. I loved Nick Bunker's, Making Haste from Babylon: The Mayflower Pilgrims and their New World. Both Bunker and Kaplan are superb story tellers and researchers.
10. Do you believe being a lawyer helped you write Charitable Trust?
Absolutely. I think you must have experience as a lawyer to write convincingly about litigation. Moreover, living with a pilot, I breathe that air, too (at about 37,000 feet).
11. Do you have another project in the works? If so, what is it?
Yes. It's a memoir and the working title is: Kittens and the Art of Human Rescue. It's about the journey of bereavement, mourning, and grief and how rescuing three little kittens, born outside during that terrible (icy, frigid) winter after my mom's sudden death from a heart attack, helped me and my family endure the pain of permanent loss and begin to find joy again. Interestingly, I'd been so behind in my pleasure reading that long after the outline for this new book began, I was finally catching up on the huge stack of New Yorker magazines that had collected by my bedside. A day this past July (2015), I picked up the 9 March 2015 edition, and read an article called, "Grieving With Your Goshawk," about Helen McDonald's book, H is for Hawk. I had no idea that a book like the one I envisioned had been published. I wondered, should I continue with my project? After discussing the matter with my practical pilot husband, he said I should. In his words, "More people own cats than hawks," tell people your story. I hope to have my grief memoir/kitten book completed by the fall of 2016, and published in 2017; unless of course, more people in my life die. That takes me off course. When I'm finished, I will read Helen Macdonald's book and learn about her grief and birds of prey.
12. Do you have a motto or words of inspiration you'd like to share?
Yes, it's from the King James Bible. Ecclesiastes 9:11. "I returned, and saw under the sun, that the race is not to the swift, nor the battle to the strong, neither yet bread to the wise, nor yet riches to men of understanding, nor yet favour to men of skill; but time and chance happeneth to them all."