Marie H. Browne, R.N., Ph.D.
Marlene M. Browne, Esq.
Marlene Browne is a lawyer licensed in New Jersey, Massachusetts, and Colorado. In addition to writing, Ms. Browne lectures on the law and appears regularly on national radio and TV. The author has written The Divorce Process, Boomer's Guide to Divorce, To Prepare A Face, Aspen Heir, and from Adams Media, If the Man You Love Was Abused: A Couple's Guide to Healing and You Can't Have Him – He's Mine: A Woman's Guide to Affair-Proofing Any Relationship. (Both of these Adams titles were co-written with Marlene's mom, the late, Marie H. Browne, R.N., Ph.D.).
If the Man You Love Was Abused: A Couple's Guide to Healing
Abuse in the News
The scars left on the hearts and souls of childhood abuse survivors run deep. They require time, patience and loving support to heal. Finally, "If the Man You Love Was Abused" offers a lifeline for the men who suffered childhood abuse, and the people who love them. This book will teach readers to: get the support that the survivor needs; make sure loved ones don't neglect their own needs; and, determine when, and how, to seek professional help.
Marie and Marlene were honored and privileged to present a workshop at The MaleSurvivor 2007 Conference ("Relief, Recovery and Restoration: Helping Men Heal from Sexual Abuse") at the John Jay College of Criminal Justice of the City University of New York, on October 25-28, 2007. John Jay is located on Tenth Avenue at 58th Street in Manhattan. Contact www.malesurvivor.org for more information on this or future conferences.
You Can't Have Him – He's Mine
(Originally titled, The Secrets of the Husband Snatchers, and as seen in The New York Times.)
(Now available in Thai, Portuguese, and English.)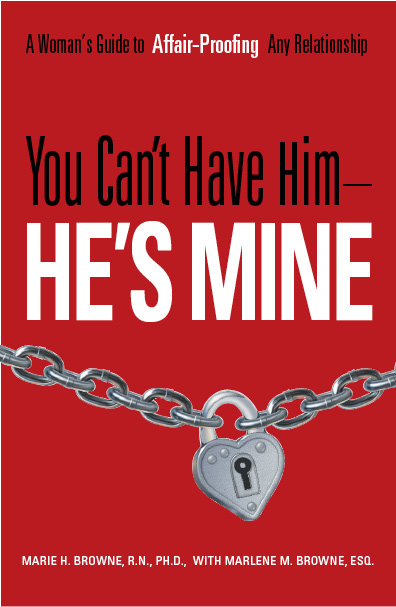 "The first line of protection against adultery is a prevention strategy, based on identifying and minimizing risks... and taking responsibility for managing [those] risks."
Cossman, Brenda, "The New Politics of Adultery" Columbia Journal of Gender and Law (2006)
Adultery in the News
YOU CAN'T HAVE HIM – HE'S MINE: A Woman's Guide to Affair-Proofing Her Relationship (Adams Media; trade paperback; 2007), is an authoritative tactical guide to beating the homewrecker at her own game written by a psychotherapist and family law attorney. Author Marie H. Browne, R.N., Ph.D., is a licensed marriage and family therapist for nearly forty years. A former professor of psychiatric nursing, she continues to enjoy a thriving private practice. Her daughter and coauthor, Marlene M. Browne, Esq., is a family law attorney and author of several books, including, If the Man You Love Was Abused.
They've combined their considerable talents and experience to offer mate-guarding tactics that will ward off the would-be other woman as well as tools for assessing the infidelity vulnerability of any marriage. In YOU CAN'T HAVE HIM – HE'S MINE, women learn why other women choose to pursue a man who is already spoken for, what makes a husband or even boyfriend susceptible to another woman's advances, and what they can do to stop her.
Citing research that reveals how men fall in love faster, harder, and, upon a breakup, suffer much longer and in many cases, deeper than women, the authors reveal just how menacing a marital poacher's sexual spell can be to any marital union. Women will gain profound insights into the nature of female competition and the personality disorders that drive many women to pursue affairs with other women's husbands. The authors reveal the "hunting grounds" of marital interlopers, including the workplace, the home front, and the internet, offering advice on protecting a marriage even when you're thousands of miles away.
Encouraging readers to "look in their marital mirror," the authors offer a few simple marital reality checks that can be used to honor what's right between you as you work on what's wrong or at least, what could stand improvement. YOU CAN'T HAVE HIM – HE'S MINE helps women head trouble off at the pass with advice on overcoming monogamous monotony, satisfying your husband's sexual and emotional needs (even when they differ markedly from your own), and promoting marital interdependency.
Noting that an encroaching affair is not the end of your relationship, the authors offer guidance on using divorce lawyers and marital therapists during a time of marital crisis caused by an interloper. Offering frank advice on the vagaries of marital satisfaction experienced by all married couples, the authors reveal the distinct characteristics found in happy, long-term marriages and offer advice on coping with stress and depression extramarital affairs cause – and much more.
Boomer's Guide to Divorce
(See Marlene's articles on divorce and money at Forbes.com.)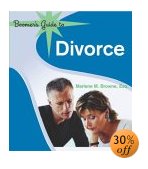 While the baby boomer generation grew up watching solid marriages like those of the Ricardos, the Cleavers, and the Petries, they've learned that marriages sometimes don't work out, and that the real-life effects - both emotional and financial – are no laughing matter.
For those who are ending marriages and starting over, while coping with teenaged children, aging parents, looming retirement, health and fitness concerns and other midlife issues, the Boomer's Guide to Divorce by author Marlene Browne offers advice on:
· Deciding whether you really want out of the marriage
· How to have a "good" divorce, rather than a bitter one
· Finding an attorney – and an accountant
· Dealing with family and friends
· Getting through the minefields of the legal process
· Starting over again – establishing credit, finding insurance coverage and more.
To help 40- and 50-somethings navigate the often uncertain and troubling waters of mid-life, Alpha Books new series of books – Boomer's Guides – are specifically targeted to the experiences and circumstances baby boomers face. Written by respected experts in the field who are boomers themselves, Boomer's Guides offer a fresh, concise, knowledgeable resource for the range of situations and circumstances boomers often confront and are written in a friendly, experienced style – like advice from a trusted and respected friend.